Fencing Fall - Varsity
On Guard High School Fencing League Meet
Subscribe to Alerts
Flowery Branch High School
Flowery Branch High School
Flowery Branch, GA


Men's foil: Coach Kristin Vines, Creighton Arrington, Kistler Hampton, Chris Yang
---
Baylor's dominance in the On Guard High School Fencing League continued in Flowery Branch, Ga. this weekend as the Raiders took nine of 16 podium spots in the second competition of the season.
The Raiders' performance was highlighted by a 1-2-3 showing in the mens' foil competition, with Creighton Arrington first, Kistler Hampton second, and Chris Yang third (pictured above). Rex Zhu finished sixth, Matthew An was seventh, and Allen Yan took 13th.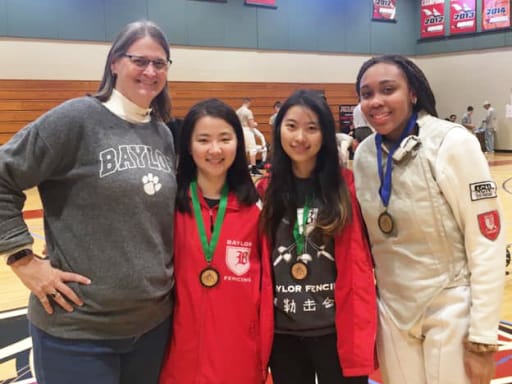 In laides' foil, Baylor also took four of the top five spots with Jazmin Perkins on top, Mary Ma and Candice Xie tied for third. and Alice Fang in fifth. Tina Zheng finished seventh for the Raiders, Maddie Kim 11th, Catherine Campbell was 12th, and Selin Huang finished 15th.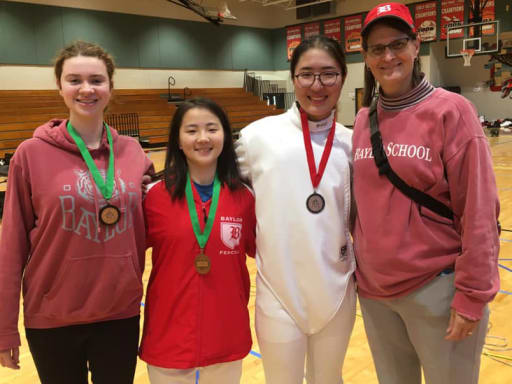 Four of the top five spots in ladies' epee also went to Baylor fencers with Eva Liu in second followed by Ma and Campbell in a tie for third, and Kim fifth. Huang finished 10th, Zheng was 12th, Fang 13th, and Xie finished 15th.
Baylor turned in a solid performance in the men's epee event with Hampton leading the way with a ninth place finish followed by Arrington in 10th, Alexander Yu in 11th, Zhu 14th, An 16th, Yang 21st, and Yan in 22nd.
The Red Raiders remain atop the league team standings in all four of their events, with three competitions remaining. The OGHSFL season continues on 7-8 December at Riverside Military Academy.