Rowing
Subscribe to Alerts
Ross' Landing
Ross' Landing
Chattanooga
Baylor crews made history this weekend, winning the school's first gold medal ever in the mixed 8 and finishing first among scholastic teams for the first time ever in men's varsity 8 at the Head of the Hooch.
The Head of the Hooch is one of the world's largest rowing regattas and is raced in Chattanooga.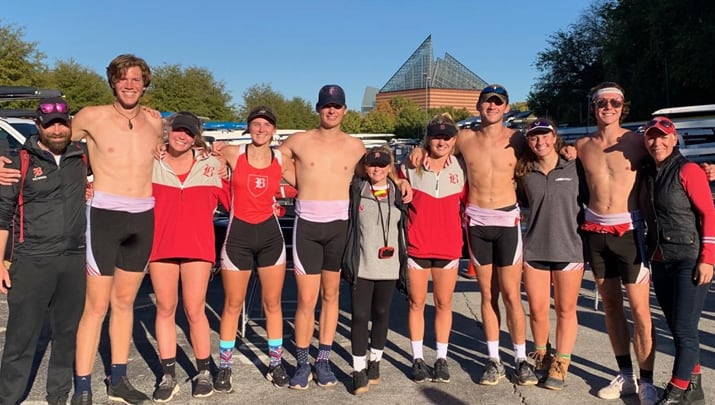 The weekend was capped off on Sunday with the first gold medal for a Baylor crew, as the Raiders mixed 8 (seniors Katie Nelson, Jack Anderson, Lake Watson, Max Smith, Kennedy Watson, and Natalie Lopez Durel, and juniors Chris Young, Caroline Chapman, and Dana Mays) beating teams from Orlando, Pittsburgh, Atlanta, Nashville, Tampa, and several other cities. The mixed 8 B entry took fifth.
Boys
Varsity 8 - Peyson Pearce, Jack Anderson, Chris Young, Lake Watson, Max Smith, Patrick Stultz, Liam Barks, Ronin Kmeta-Suarez, Isaac Waxenberg - first among scholastic teams, 4/85 overall
Varsity 8 B - Katherine Chen, Paxton Anderson, Evan Jenkins, Rowe Cooper, Owen Eastman, Scott Campbell, Iain Henderson, Duncan Ingram, Caleb Nunes - 49/85 overall
Varsity 4 - Peyson Pearce, Jack Anderson, Chris Young, Lake Watson, Max Smith - fourth of 96 overall
Varsity 4 B - Katherine Chen, Patrick Stultz, Tritan Anderson, Ronin Kmeta-Suarez, Liam Barks - 16/96 overall
Novice 8 - Jack Minehan, Odin Phillips, Kevin Yu, Derek Bartley, Shiloh Chamberlain, Braden Martin, Owen Mynatt, Charlie Cushman, Sergiy Sergiyenko - 25th overall
Lightweight 8 - Peyson Pearce, Paxton Anderson, Evan Jenkins, Shayan Bajestani, Owen Eastman, Odin Phillips, Iain Henderson, Joshua Lefkoff, Caleb Nunes - 13/23 overall
Lightweight 4 - Jack Minehan, Odin Phillip, Derek Bartley, Iain Henderson, Kevin Yu - 33rd overall
Girls
Varsity 8 - Maya Wiisanen, Ella Webb, Natalie Lopez-Durel, Dana Mays, Grace Rollins, Kennedy Watson, Caroline Chapman, Ellie Tomisek, Rebecca Watson - third among scholastic teams, 24/81 overall
Varsity 8 B - Brooke Romanchik, Sierra Haberhern, Maddie Hart, Ellis Coffelt, Gracie Tomisek, Halden Williams, Mary Frances McDowell, Katy Waddell, Lily Fridl - 63rd overall
Varsity 4 - Katie Nelson, Kennedy Watson, Natalie Lopez-Durel, Dana Mays, Caroline Chapman - fourth among scholastic teams, 32/90 overall
Varsity 4 B - Molly Smith, Ellie Tomisek, Ella Webb, Ellis Coffelt, Gracie Tomisek - sixth among scholastic teams, 34/90 overall
Novice 8 - Anna Lindsay, Meg Trammel, Gracie Mae Bankes, Rebecca Watson, Maren Johnson, A. C. Arnold, Holly Rosser, Margaret Dowling, Grace Henderson - second among scholastic teams, 15th overall
Lightweight 4 - Brooke Romanchik, Maddie Hart, Sierra Haberhern, Lily Fridl, Halden Williams - 21st overall