Cross Country - Girls Varsity
Subscribe to Alerts
Woodland Park Baptist Church
Woodland Park Baptist Church
6735 Standifer Gap Rd
Chattanooga, TN
With all five scoring runners in the top 15 and nine runners finishing in the top 20, the Baylor girls' cross country team blitzed the competition to win the McCallie Invitational at Woodland Park Saturday. The Raiders finished with 38 team points, followed by GPS at 84 and Chattanooga Christian at 101.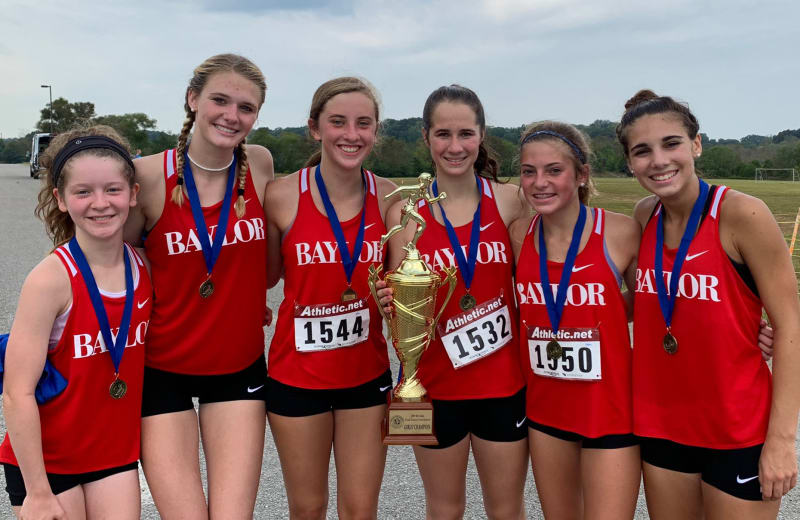 Baylor was led by freshman phenom Helen Webb who battled to a runner-up finish in 20:21.61. Seniors Emmy Davis (21:03.56) and Hannah Rosser (21:29.34) were fifth and sixth; freshman Ellie Myers (22:46.17, PR), junior Janie Pippenger (22:47.52), and freshman Addison Johnson (22:48.40) finished 13th, 14th, and 15th; and junior Rosa Anderson Barrera (23:10.56), freshman Ava James (23:25.39, PR), and senior Sarah Rutledge (23:26.53, PR) rounded out the top 20 in 17th, 19th, and 20th.
Other Baylor finishers included Natalia Forato (27th, 24:08, PR), Sarah Kathryn Oliver (29th, 24:17, PR), Charlotte McGinness (31st, 24:25, PR), Emily Hale (34th, 25:02), Maddie Perry (36th,25:11), Shirley Zhang (55th, 26:12), Riley Murdock (58th, 26:32), Jade Liu (72nd, 27:40), Kali Cromie (76th, 27:59), Margy Pippenger (80th, 28:11, PR), Lauren Hill (81st, 28:11), Caroline Imsand (93rd, 30:00), and Mikala Dupre (103rd, 31:18, PR).
Complete meet results can be seen at tn.milesplit.com.